PR70F Software Change History
With 24E451 Advanced Display Module
The Version History of PR70F software is listed below. The software currently installed on a PR70F system can be found by navigating to System Screen. All PR70F systems (with 24E451 Advanced Display Module) should match one of the following system versions. To upgrade to a newer software version, order the appropriate "Software Upgrade Token" as listed below.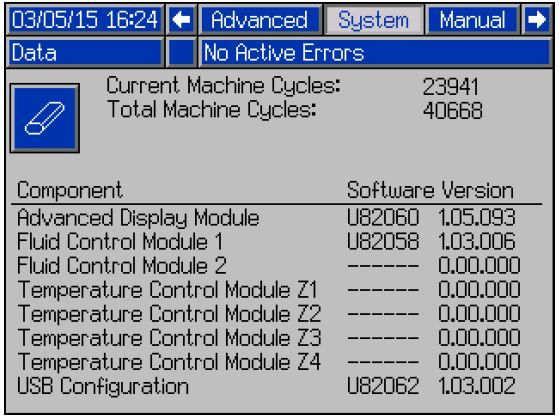 Software Upgrade Token: U82161 Series U
System U82321u.gti (Software Link) Version 1.02.003
Advanced Display (ADM):  U82060 version 1.07.003
Fluid Control Module (FCM3):  U82058 version 1.04.001
USB Configuration: U82062 version 1.04.004
Temperature Control Module: 15M871 version 1.08.002
Updated software to allow TOF hoses to work with PR70F. By allowing the software to auto detect the RTD resistance between the PR70 hoses (1000 ohms) and the TOF hoses (100 ohm)
See instruction manual 334984 for complete details on the PR70F 2 Component Dispense/ Metering System. The latest revision manual can be found at graco.com.
Read, understand and follow all instruction manuals and warning labels supplied with all equipment. Only trained and qualified personnel should perform repairs on the equipment. To access the latest manuals in your preferred language go to "www.Graco.com" and use the "Search" function.